Add your review
100% Iberico Jamon Ballota in hand cut slices 100 gram
100% Iberico Jamon Ballota in hand cut slices 100 gram
The one and only Pata Negra. Black Label is the highest quality. That means 100% Iberico variety, cut from the ham (hind leg) and ballota quality. Cortado a cuchillo... hand-carved. Read more
Ordered before 1:00 PM, shipped the same day. NB! November and December are very busy at PostNL. Please take longer delivery times into account.
Description
There is a lot of uncertainty about the delicious Spanish ham, Pata Negra.
Pata Negra literally means black hoof. That is the nickname of the Iberian pig.
Sometimes the pigs are crossed with 'white' pigs. However, we sell the highest quality of 100% Iberico pigs.
We also know the Paleta (shoulder) and the Jamon (the ham of the hind leg). Again only the highest quality, so the real Jamon.
Then there is a quality indication. We know 3 types of nl, Cebo, Recebo and Ballota. These indications indicate what the pig has eaten in the last months of its life. Only nuts (Ballota) gives the real delicacy. Cebo is grain and the lowest quality. At Recebo, the animal was fed with grain because there were not enough nuts (beginning or end of the nut period).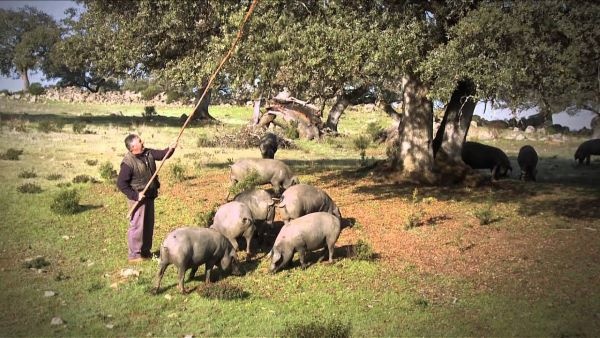 All this is recorded in a color quality system. We sell Black Label.
- 100% Iberico pig
- free walking on the Spanish Dehesa
- In recent months has only fed on nuts from the trees
- Meat of the ham (hind leg)
And then Cortado a cuchillo. This means it is hand carved. This is a must for the true connoisseur. The fat is the seasoning and friction from the rapidly rotating blade of a machine can burn that fat slightly. The very best quality must therefore also be cut by hand.
You will not find better than this ham... a true delicacy.
How can you recognize ballota quality? Very easy. The fat of ballota quality ham melts at room temperature. So it literally melts in the mouth, which gives it that wonderful taste.
Test it by rubbing the slice with your fingers. When the fat melts immediately and your fingers smell like nuts, you have the one and only Pata Negra Ballota.
Specifications
| | |
| --- | --- |
| Content | 100 gram |
| Country of origin | Spain |